.comment-link {margin-left:.6em;}
We have -
Moved To:
http://professor-howdy.blogspot.com/
The E.Newspaper
By Dr. Howdy, Ph.D.
A.P.E., N.U.T.

************************
Check Out Comments -
Humor + Letters From Readers
Add Something Yourself
************************
Tuesday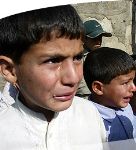 Christian relief organizations, already busy providing help
to those devastated by Hurricane Katrina, quickly switched
gears this weekend to respond to an enormous earthquake
in South Asia, described by Pakistan President Pervez
Musharraf as the biggest tragedy in his country's history.
Measuring 7.6 on the Richter scale, the Oct. 8 earthquake
was centered northeast of Islamabad, and caused most
damage and loss of life in Pakistan's North-East Frontier
province and on both sides of the "line of control" that
divides disputed Kashmir between areas controlled by
Pakistan and India. According to CNS news, it also had
an impact in northern India and Afghanistan, and was
felt as far away as Indonesia.
Death toll estimates range from 20,000 to 30,000, Fox
News reported.



MORE!!!



* * * Great Archives Here - - - - "Music That Howdy Enjoys" Below * * *
December 26 January 02 January 09 January 16 January 23 January 30 February 06 February 13 February 20 February 27 March 06 March 13 March 20 March 27 April 03 April 10 April 17 April 24 May 01 May 08 May 15 May 22 May 29 June 05 June 19 June 26 July 03 July 10 July 17 July 24 July 31 August 07 August 21 August 28 September 04 September 11 September 18 September 25 October 02 October 09 October 16 October 23 October 30 November 06 November 13 November 20 November 27 December 04 December 11 December 18 December 25 January 01 January 08 January 15 January 22 January 29 February 05 February 12 February 19 December 30