.comment-link {margin-left:.6em;}
We have -
Moved To:
http://professor-howdy.blogspot.com/
The E.Newspaper
By Dr. Howdy, Ph.D.
A.P.E., N.U.T.

************************
Check Out Comments -
Humor + Letters From Readers
Add Something Yourself
************************
Wednesday
Scientists Reconstruct 1918 Spanish Flu
.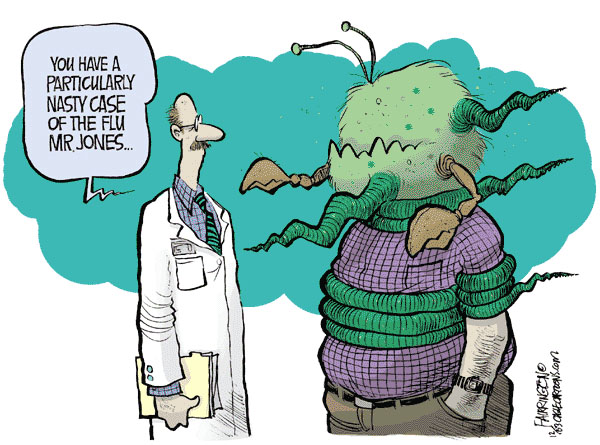 Scientists have discovered that the 1918 virus was
a bird flu that jumped directly to humans. It has
taken scientists 10 years to reconstruct the virus.
They did so using lung tissue from two soldiers and
an Alaskan woman who died in the 1918 pandemic.
According to the New York Times, "The findings,
published in the journals Nature and Science,
show a small number of genetic changes that
may explain why this virus was so lethal. It is
significantly different from flu viruses that
caused the pandemics of 1957 and 1968. Those
viruses were not bird flu viruses but were human
flu viruses that picked up a few genetic elements
of bird flu."
MORE!!!
* * * Great Archives Here - - - - "Music That Howdy Enjoys" Below * * *
December 26 January 02 January 09 January 16 January 23 January 30 February 06 February 13 February 20 February 27 March 06 March 13 March 20 March 27 April 03 April 10 April 17 April 24 May 01 May 08 May 15 May 22 May 29 June 05 June 19 June 26 July 03 July 10 July 17 July 24 July 31 August 07 August 21 August 28 September 04 September 11 September 18 September 25 October 02 October 09 October 16 October 23 October 30 November 06 November 13 November 20 November 27 December 04 December 11 December 18 December 25 January 01 January 08 January 15 January 22 January 29 February 05 February 12 February 19 December 30